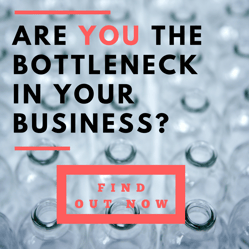 Time and time again, entrepreneurs find themselves involved in too many areas of their business. This effectively puts them in the position to stunt progress for individual team members as well as the entire company. Too many decisions fall solely back on them or there is way too much reliance on their involvement by their team. This type of leadership creates a "bottleneck" in the business.
We recognize it can be both emotionally and psychologically difficult to self-assess yourself as the primary decision maker and visionary, but we encourage you to pursue change NOW!
If you are the bottleneck in your business that you can't afford, don't worry! You've chosen the right first step on your journey to growth and freedom.
Our new diagnostic survey: "Which Type of Bottleneck Are You?" will show you:
The five types of bottlenecks and which ones you match with

Their backstories and why they occur

Easy solutions you can deploy to help clear them from your business

.
This amazing tool is brought you to by Delegate Solutions. We support businesses whose teams are drowning in the day to day. Our services are designed to flexibly plug into your staffing growth plans. Whether your team is overwhelmed, or underwhelmed, our remote Strategic Support service provides elasticity for growth.
*Please note: Each bottleneck type that you match with will generate a unique email focusing on solutions for that profile.
GET ACCESS TO our BOTTLENECK DIAGOSTIC!