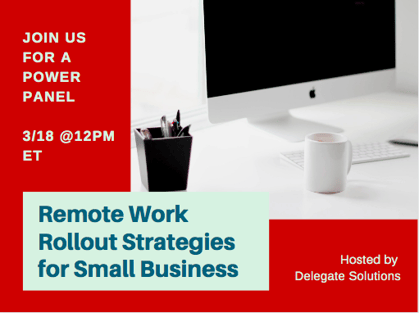 Grab our content-packed FREE POWER PANEL replay!
The unprecedented challenge of the Coronavirus is forcing leaders to create work from home teams overnight. Business owners are now having to instantly navigate this new way of working.

Join us as we bring together the collective brainpower of a panel of remote work experts who will experience-share their thoughts on quick win strategies you can use to make your remote work plan a success. This power session is designed to be no-fluff and as focused as possible to get you the answers you need as we weather this unprecedented time together.

This power panel is for you if:
You're finding yourself suddenly running a remote team and need to quickly figure out a plan to make it successful
You need an easily executable plan for tools, protocols and best practices that you can easily implement with your new-to-remote team
On this no-fluff power meeting, we will cover quick wins you can make with your team on:
Remote work protocols
Remote work tech/ tools
Remote work best practices
Our panel includes seasoned experts on remote work who will experience-share and answer any questions or concerns that you have around how to make this sudden transition as seamless as possible.