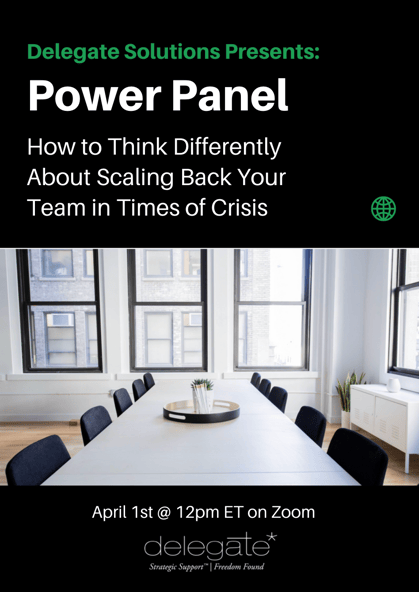 Grab our content-packed FREE SCALING BACK PANEL replay!
How to Think Differently About Scaling Back Your Team in Times of Crisis
The Chinese word for "crisis" is composed of two Chinese characters signifying "danger"and "opportunity". (危机) This certainly rings true today as business owners navigate the current COVID-19 crisis to determine the key "dangers" they face in the uncertainties of the present. The unknown is an opportunity to think differently about the future version of our business on the other side of this crisis.
In this power panel we will share expert opinions and practical tools that you can use to pause and reflect as you think through changes and cuts that you need to make to your team.
This power panel is for you if:
You are in the process of or planning to scale back your workforce
You need an easily executable process, plan, tools, and best practices to evaluate your people and your services to determine next steps
You want fresh perspective around how to think differently but realistically about making these changes in your business
Key topics of discussion will cover:
Key considerations before you take action to scale back your workforce
How to use this opportunity to evaluate if you have the Right People in the Right Seats
How fractional resources can become a pliable tool for your scale back strategy
How to strike a balance between maintaining cash flow now and pivoting post-crisis
Our panel includes seasoned entrepreneurs, business strategists and experts on EOS® principles who will experience-share and answer any questions or concerns that you have around how to think differently about making these cuts.