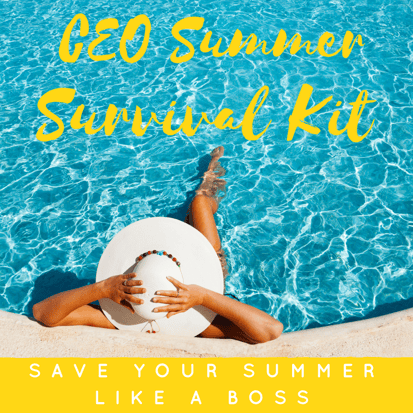 Have no fear, Delegate's Summer Survival Kit is here!
Sign-up now to receive curated articles, activities and reading lists in your inbox the first Monday of each month this summer. Learn how to enjoy your summer (and that much needed down time) while still being productive. Each month will follow a certain theme with bonus content to allow you to disconnect while still being connected to your business (and to come back from summer vacation with new tools to take your company to the next level). We promise not to bombard your inbox so you can spend your time soaking up the sun and will send one comprehensive email each month.
Here's what to expect:
June: CEO Intervention- Save Your Summer
Article: 10 Ways to Keep your Business Moving While Still Enjoying Your Summer

Activity: Bottleneck Diagnostic- Which type of Bottleneck are you in your business? (and how to fix this!)

Emily's June Summer Reading List
July: 4 Ways to Declare Your Independence
Article: 4 Ways to Declare Your Independence"

Activity: Automation Checklist for a productive summer

Emily's July Summer Reading List
August: Un-Labor Day
Article: How CEOS can Unplug and Unwind by Being Prepared

Activity: Webinar Replay (**2 great webinars to get you back on track for fall!)

See the Exact Delegation Process These Entrepreneurs Used to Grow Their Companies (And How to Make it Work for You!)

How Your Company Can Run Itself

Emily's August Summer Reading List
*Don't worry if you sign up late! We'll send you the kits from any months you missed.
Request Your Summer Survival Kit!