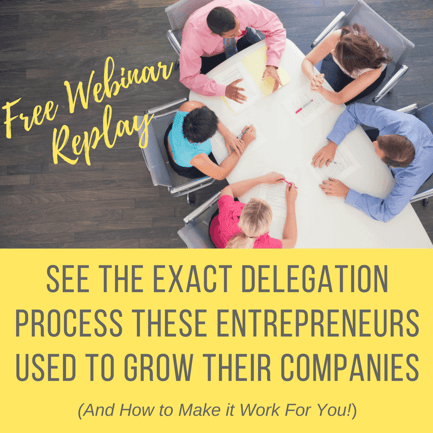 Emily Morgan, Founder of Delegate Solutions, pulls back the curtain to share what time-starved entrepreneurs do to get administrative & busy work off their plates to free their time—growing their businesses in the process!
Request access to our 45-minute, content-packed FREE webinar recording.
Who it's for:
Time-starved CEO's

of companies with fewer than 20 full time employees
Resource-constrained solopreneurs

hitting a wall in their growth
Professionals

who need or want to spend less time on the details, and more time on revenue generating activities
What we cover:
How a CEO in the travel industry leveraged his use Focus & Buffer days to get back 10-12 hours per week and increased accountability to make sure things got done properly.

How a Personal Development Coach was able to break out of being a solopreneur, stopped worrying about emails & scheduling, and won back 20 hours of his time each month.

How a CEO of an engineering firm

was able to delegate work and take on more projects DESPITE not having enough time to tell everyone what to do or train.

How to put each of these tactics to work in your business so you spend less time on busy work and more time on revenue generating activities (or even just having an extra hour each day to spend with your family)
How long it will take you to benefit:
Some of the examples we will share can be deployed into your business in 30 minutes. Others require a bit more time, less than 5 hours in certain cases. But investing time in getting more time may be the highest ROI decision you make all year!
Are you wasting time and money on ineffective marketing strategies for your business?

Do you wish that you understood the latest technology and automations available to generate and nurture quality leads?

Do you want simple strategies to keep your marketing scalable and evergreen?
GET ACCESS TODAY!