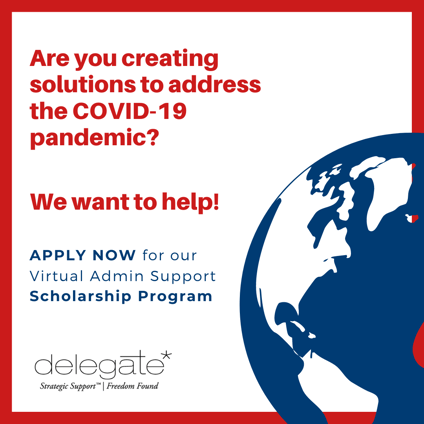 We are looking to use our team's administrative skill set to help a social impact company that is creating solutions to address the global COVID-19 pandemic. Our Virtual Support Scholarship Program will help provide the execution to the best ideas and initiatives that will bring about change. Our team will be part of the review process to identify and select the social impact company that we will be supporting.
A few examples of initiatives that would qualify would address:
Food distribution/shortages
Healthcare worker support
PPE shortages
E-learning
Testing and contact tracing
Who we are:
We were founded in 2007 as a woman-owned 100% remote premium Virtual Assistance Firm. We specialize in working with entrepreneurial leaders and their teams to help them increase productivity and efficiency through delegation. Our team is comprised of thinkers and doers who work together to help execute your best ideas using our administrative capabilities. Our team works remotely from home offices all across the US. You can learn more about us here: www.DelegateSolutions.com
FAQ:
What is the scholarship?
25 hours per month x 6 months of virtual administrative support services valued at nearly $10,000!
Dedicated professional administrative support team
Partnership and social promotion with Delegate Solutions
Who can apply?
To be eligible to apply, companies must:
Be an established US-based company or non-profit organization
Have between 2 to 50 employees
Have creative solutions to address challenges specifically related to the worldwide COVID-19 pandemic
What is the process?
Applications will be accepted between 5/1- 6/15/20.
Our team will review and select the finalists in late June and the winner will be scheduled for a July 1 start date.
If your business meets the eligibility criteria above, we'd love to hear from you via the application process below.
What happens after I apply?
You will receive a confirmation email within 24 hours after you have completed and submitted the application. We will be in touch in early June with any next steps.
If selected, support will begin on July 1 and run through December 31, 2020. Should the recipient wish to continue administrative support after that point, service will be subject to regular pricing.